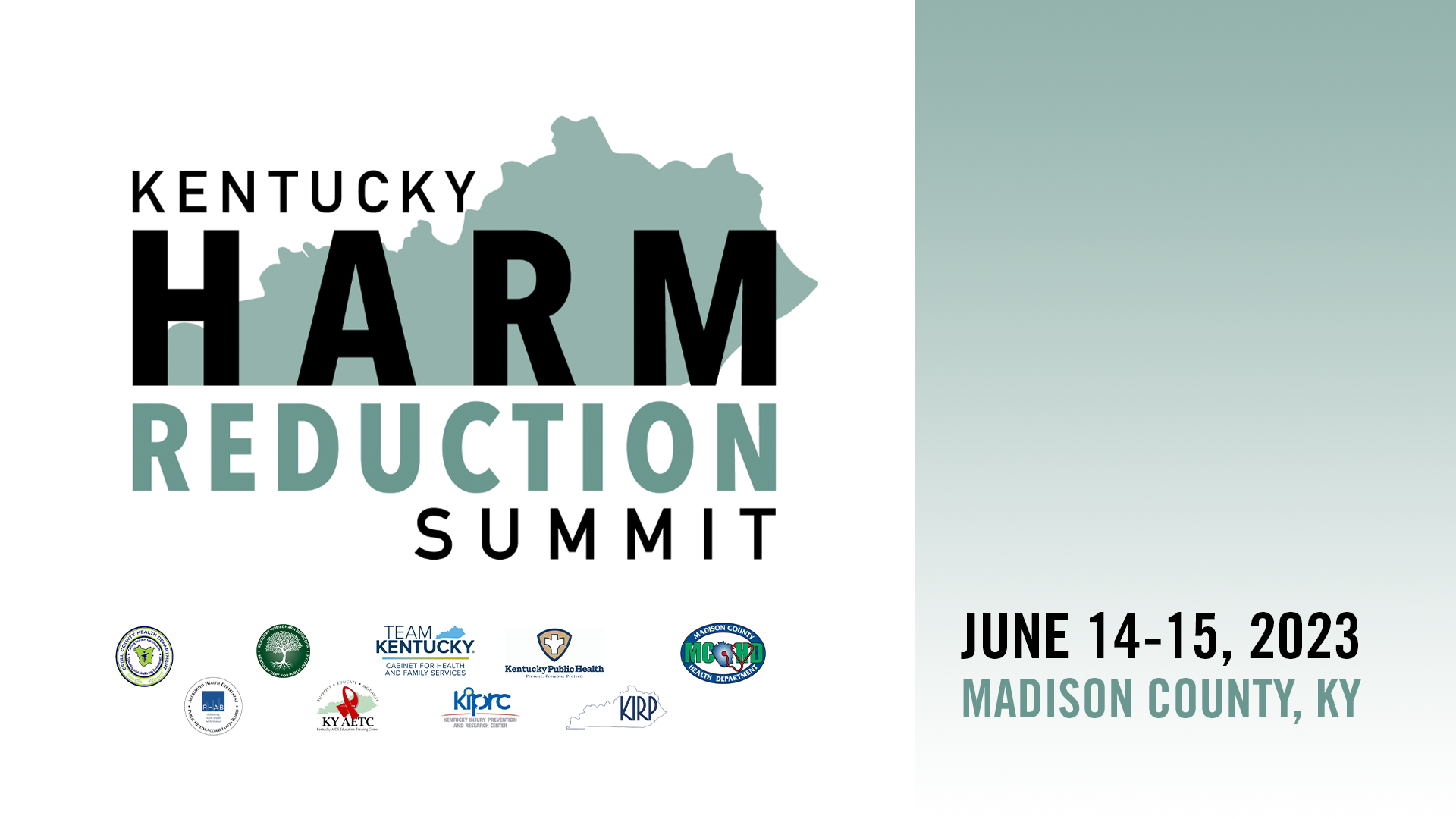 2023 Kentucky Harm Reduction Summit
Registration Now Open
Who Should Attend?
First Responders (Law Enforcement, EMS, Fire Department, Quick Response Teams)
Healthcare Professionals (Certified Alcohol and Drug Counselors, Community Health Care Workers, Mental Health Professionals, Nurses, Nurse Practitioners, Pharmacists, Physicians)
Legal Professionals Local Government Officials (County Judge Executives, Mayors, and Magistrates)
Local Health Department Board of Health Members
Local Health Department Staff (Directors, Environmentalists, Nurses, Harm Reduction Staff, Health Educators, Peer Support Specialists)
Public Health and Healthcare Students
Includes...
National, State, Regional, Local Guest Speaker
Kentucky Overdose Prevention and Response Efforts
Harm Reduction Best Practices
Breakout Sessions
Poster Presentations
Vendor Exhibitions & Tutorials
AND MUCH MORE!
For More Information, Contact...
Chase Barnes, MPH, Harm Reduction Program Manager, Kentucky Department for Public Health chase.barnes@ky.gov.
Phoebe Wheeler-Crum, MA, Harm Reduction Public Health Educator, Kentucky Department for Public Health phoebe.wheelercrum@ky.gov.
Previous Harm Reduction Summit Information
The 2023 Harm Reduction Summit is supported by Cooperative Agreement Number NU17CE924971 funded by the Centers for Disease Control and Prevention, and awarded to the University of Kentucky Research Foundation and the Kentucky Injury Prevention and Research Center (KIPRC). Its contents are solely the responsibility of the authorized and does not necessarily represent the official views of the Centers for Disease Control and Prevention or the Department of Health and Human Services.
Event Waitlist
This two-day summit is FREE of charge and will be held in-person. Capacity of 400 attendees has been reached.   We apologize for any inconvenience this may cause to your agency.
Due to the number of registration requests there is now a waitlist.
Agenda
The Summit, will focus on Harm Reduction, disease prevention including Hepatitis C (HCV) and Human Immunodeficiency Virus(HIV)/Acquired Immunodeficiency Syndrome (AIDS), opioid use disorder, substance use disorder (SUD), neonatal abstinence syndrome (NAS), suicide prevention, and other Harm Reduction-related topics.