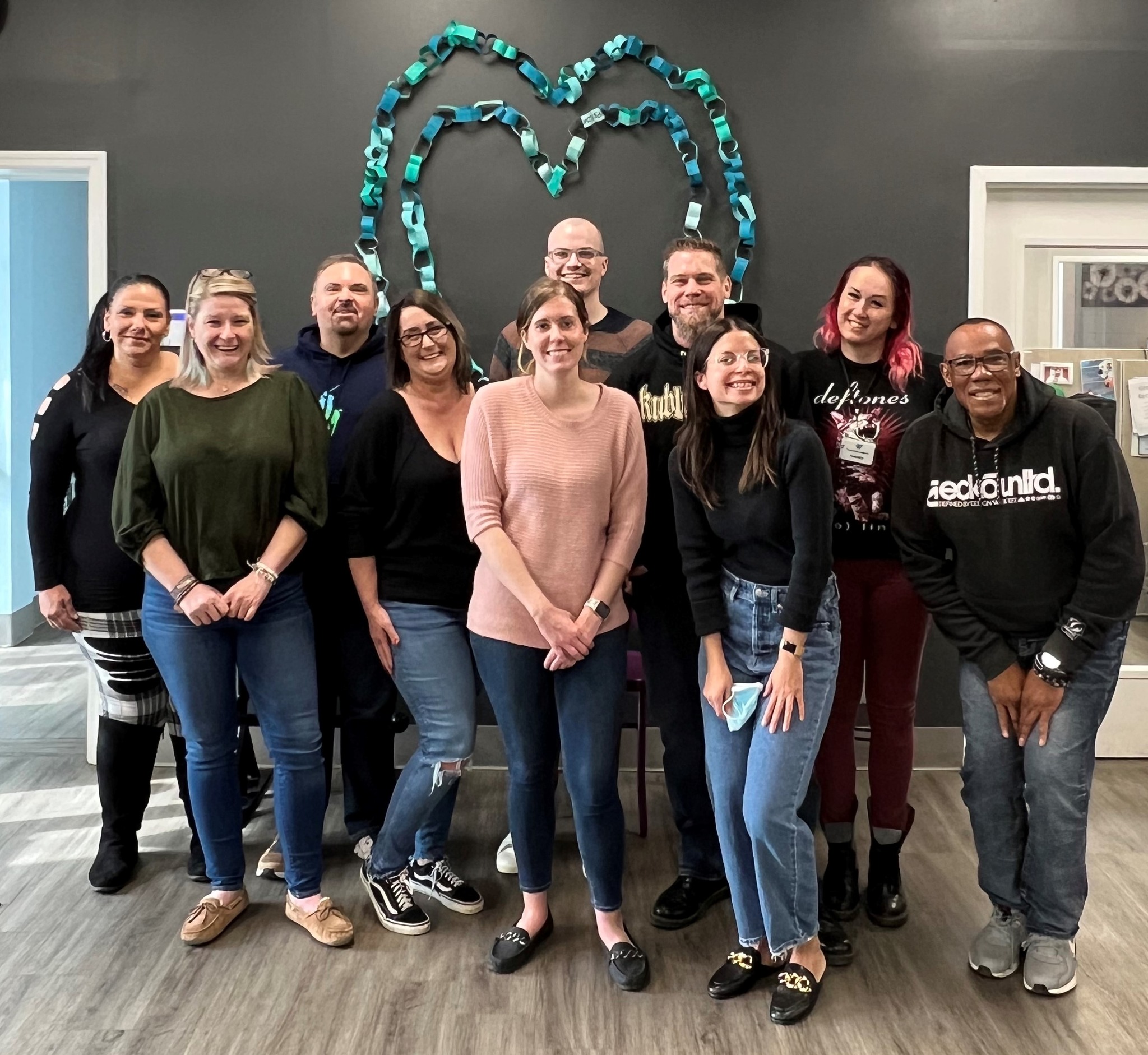 FindHelpNow Team Visits Local Recovery Community Organization
The FindHelpNowKY.org team recently visited Voices of Hope, a local substance use disorder (SUD) recovery community organization in Lexington, to demonstrate the newly launched FindRecoveryHousingNowKY.org and to give a refresher of the FindHelpNowKY.org website to the recovery coaching staff.
Team members included Leah Dick, research program manager of FindHelpNow.org, Angie Kirby, substance use disorder education and outreach coordinator, and James Lewis, substance use disorder outreach assistant.
 "We are excited to be able to share these resources with the recovery coaching staff here at Voices of Hope," said Dick. "These websites provide options that meet people living in recovery where they are at and where they would like to go. Recovery community organizations like Voices of Hope help us make sure these resources get directly to those who may want it or be curious about what life in recovery could be like." Voices of Hope offers no-cost recovery support for long-term recovery. 
The FindHelpNowKY.org website launched in 2018 and is a near-real-time substance use treatment locator created by the University of Kentucky College of Public Health's Kentucky Injury Prevention and Research Center. The website search function allows individuals with SUD to find treatment facilities across Kentucky with available openings in less than a minute.
The FindHelpNow team also demonstrated the new searchable website, FindRecoveryHousingNowKY.org, launched in 2022 and modeled after FindHelpNow.org. FindRecoveryHousingNowKY.org is the next step to help individuals in recovery find sober housing once they have started treatment. Like FindHelpNow.org, FindRecoveryHousingNowKY.org lists recovery houses with near-real-time openings. The website allows individuals to customize their search by rent amount, amenities, services, residence requirements, transportation, and more. The website is an essential resource to help individuals find a recovery home that best fits their needs for safe and quality housing while in SUD recovery.
FindRecoveryHousingNowKY.org is funded by the Centers for Disease Control and Prevention (CDC) and produced by the Kentucky Injury Prevention and Research Center (KIPRC). In addition to the support from the CDC and KIPRC, FindRecoveryHousingNowKY.org wouldn't be possible without the following contributing partners: the Kentucky Cabinet for Health and Family Services, the Kentucky Recovery Housing Network, Get Help, and the Fletcher Group.
KIPRC, established in 1994, is a unique partnership between the Kentucky Department for Public Health (KDPH) and the University of Kentucky College of Public Health. KIPRC serves both as an academic injury prevention research center and as the KDPH's designee or "bona fide agent" for statewide injury prevention and control, focusing on injury prevention translation and practice.