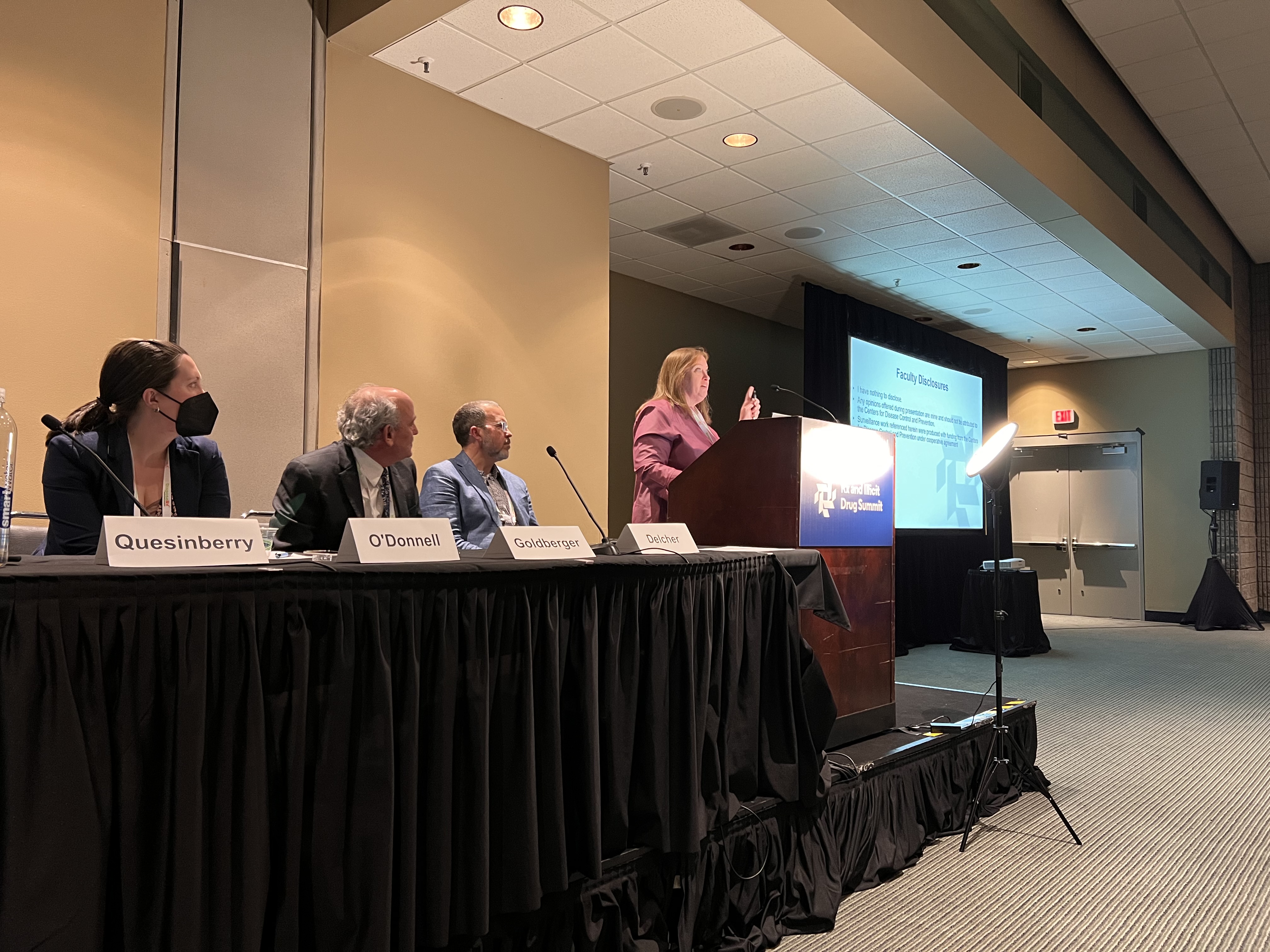 KIPRC presents research at 2022 Rx Summit
Staff members and faculty associates with the Kentucky Injury Prevention and Research Center (KIPRC) recently shared their work in substance use disorder research, treatment, and prevention at the 2022 Rx Drug Abuse & Heroin Summit, held April 18-21, in Atlanta.
Faculty associates Chris Delcher, PhD, Dana Quesinberry, JD, DPH, Trish Freeman, PhD, and Svetla Slavova, PhD, all presented.
Delcher and Quesinberry presented as part of "Insights from State Data on Overdose Deaths," while Freeman and Slavova were part of "Policy, Prescribing, and Clinical Practice: Lessons from Recent Evaluations in Kentucky."
Quesinberry, an assistant professor at the University of Kentucky (UK) College of Public Health and principal investigator for surveillance for the Kentucky Overdose Data to Action project at KIPRC, shared findings from Kentucky state data on overdose deaths related to fentanyl and other psychoactive substances including methamphetamine and discussed how data are shared with the community to inform prevention and response efforts. Delcher presented data showing shifts in the proportional impacts of these substances in geography, time, and periods relative to other policy and societal changes, including the COVID-19 pandemic.
"We presented a view of emerging drug problems from the federal to state to local levels," said Delcher, who also is a UK College of Pharmacy professor. "Our panel was focused on data, so we demonstrated the power of Kentucky's Drug Overdose Fatality Surveillance System (DOFSS), Florida's Drug-Related Outcomes Surveillance and Tracking (FROST) system, and open data systems from Illinois to examine overdoses at multiple scales."
Delcher and Quesinberry noted they were able to present with the Centers for Disease Control and Prevention (CDC), which helps raise KIPRC's and their national profile as leaders in drug epidemiology.
Freeman, a UK College of Pharmacy professor, shared a study examining the overall accuracy of opioid days' supply in Kentucky pharmacies. Results show that the calculation is influenced by a variety of factors, such as special instructions to the pharmacy, 'as-needed' directions, and payer source, and suggest that these factors should be accounted for in research studies that depend on days' supply for data. The "days' supply" is a key number that allows pharmacists to calculate average daily doses for opioid prescriptions. Since days' supply isn't always included on a prescription, it is often up to pharmacists to make the calculation and interpret the doctor's instructions, she said.
Slavova, a UK College of Public Health associate professor, presented a study examining the utilization of buprenorphine, a medication used for the treatment of opioid use disorder (MOUD), during the initial weeks of the COVID-19 pandemic. Findings show that buprenorphine treatment increased during the pandemic after an initial interruption from March to April of 2020.
"Future studies are needed to examine treatment retention for individuals initiated on buprenorphine via telemedicine, and there is also a need to assess the association between the drop in individuals on MOUD and the increase in opioid overdose deaths during the initial weeks of the COVID-19 pandemic," Slavova said.
In addition to those who presented their work, multiple KIPRC staff members attended the event, which is the nation's largest annual gathering focused on combating the opioid epidemic. The event returned to an in-person format this year after being held virtually the last two years due to the COVID-19 pandemic.
KIPRC is a unique partnership between the Kentucky Department for Public Health (DPH) and the University of Kentucky College of Public Health. KIPRC serves both as an academic injury prevention research center and as the DPH's designee or "bona fide agent" for statewide injury prevention and control.