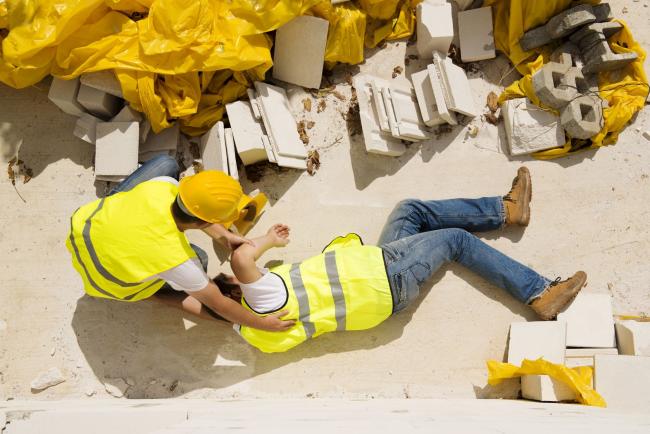 New Toolkit for Preventing Construction Falls for National Safety Stand-Down Week
LEXINGTON, KENTUCKY, May 1, 2023 --Falls continue to be a leading cause of fatalities in the construction industry in Kentucky and nationwide. In 2021, falls accounted for 43% of fatalities in the construction industry in Kentucky. To bring attention to fall hazards in the construction industry, the 10th annual National Safety Stand-Down to Prevent Falls in Construction will be held May 1–5, 2023. This annual event was created in 2014 by the Occupational Safety and Health Administration (OSHA).
A safety stand-down is a time when normal work at a construction site is paused and the entire worksite focuses on a particular safety issue. It's an opportunity for employers and employees to discuss hazards, prevention measures, and safety policies.
For this year's Stand-Down to Prevent Falls in Construction, the Kentucky Occupational Safety and Health Surveillance (KOSHS) program at the Kentucky Injury Prevention and Research Center is promoting newly developed resources to prevent a particular type of fall that has been on the rise in the Kentucky construction industry.
"We've noticed a recent spike in fatalities due to falls through skylights among Kentucky construction workers," said Rebecca Honaker, MPH, research director for KOSHS. "Since 1994, there have been seven of these fatalities, and three of those fatalities occurred during the past year."
In response to this spike in deaths, the KOSHS program has created a new toolkit focused on preventing construction falls through skylights. The Preventing Construction Falls through Skylights toolkit includes a Hazard Alert, recent fatality reports, and a case study slideshow that can be used in safety training.
"Working near skylights is a hazard that employers and workers must take seriously," said Honaker. "Even when workers are aware of their presence, it is easy to get focused on the task at hand and step in the wrong spot. All it takes is one step in the wrong place to end a life."
The toolkit highlights three construction fatalities due to falls through skylights, including that of a roofing project manager who was performing a roof inspection with his supervisor and making temporary repairs to holes that were found during the inspection. Thirty minutes after reminding his supervisor to be careful around the skylights on the roof, the project manager stepped on one of the polycarbonate skylights and fell 25 feet to the surface below.
The documents in the toolkit feature requirements that employers must follow, along with recommendations for preventing falls through skylights taken from best practices created by OSHA and the National Institute for Occupational Safety and Health.
The requirements include:
Employees must be protected from falling more than 6 feet through floor holes and skylights by personal fall arrest systems, covers, or guardrail systems erected around such openings.
Employers must provide a training program for each employee who might be exposed to fall hazards. The program should enable employees to recognize the hazards of falling and should train employees in the procedures to follow in order to minimize fall hazards.
The recommendations include:
Perform a pre-job hazard analysis to identify potential fall hazards; plan control measures accordingly.
Prior to beginning a job, ensure that all necessary fall protection systems are in working order.
Conduct frequent scheduled and unscheduled inspections to ensure that a fall protection system is used consistently and correctly.
Consider prevention through design (PtD) to "design out" or minimize hazards. By utilizing NIOSH's Prevention through Design initiative, employers can eliminate fall hazards associated with skylights by excluding them from building designs. Facilities with existing skylights can phase out and remove the skylights in lieu of repairing them, thus eliminating the hazard and future exposure.
KOSHS, an occupational surveillance program of the Kentucky Department for Public Health and the Kentucky Injury Prevention and Research Center, monitors workplace fatalities and develops toolkits, fatality reports, and Hazard Alerts to provide targeted recommendations for workplace injury prevention.
KOSHS also produced a Preventing Falls in Construction toolkit that contains educational materials employers may want to utilize for their stand-down events. Both toolkits can be accessed at https://kiprc.uky.edu/programs/kentucky-occupational-safety-and-health-surveillance-koshs-program/training-tools.
Learn more about the National Safety Stand-down to Prevent Falls in Construction at   https://www.osha.gov/stop-falls-stand-down
KIPRC is a unique partnership between the Kentucky Department for Public Health (DPH) and the University of Kentucky's College of Public Health. KIPRC serves both as an academic injury prevention research center and as a bona fide agent of DPH for statewide injury prevention and control.