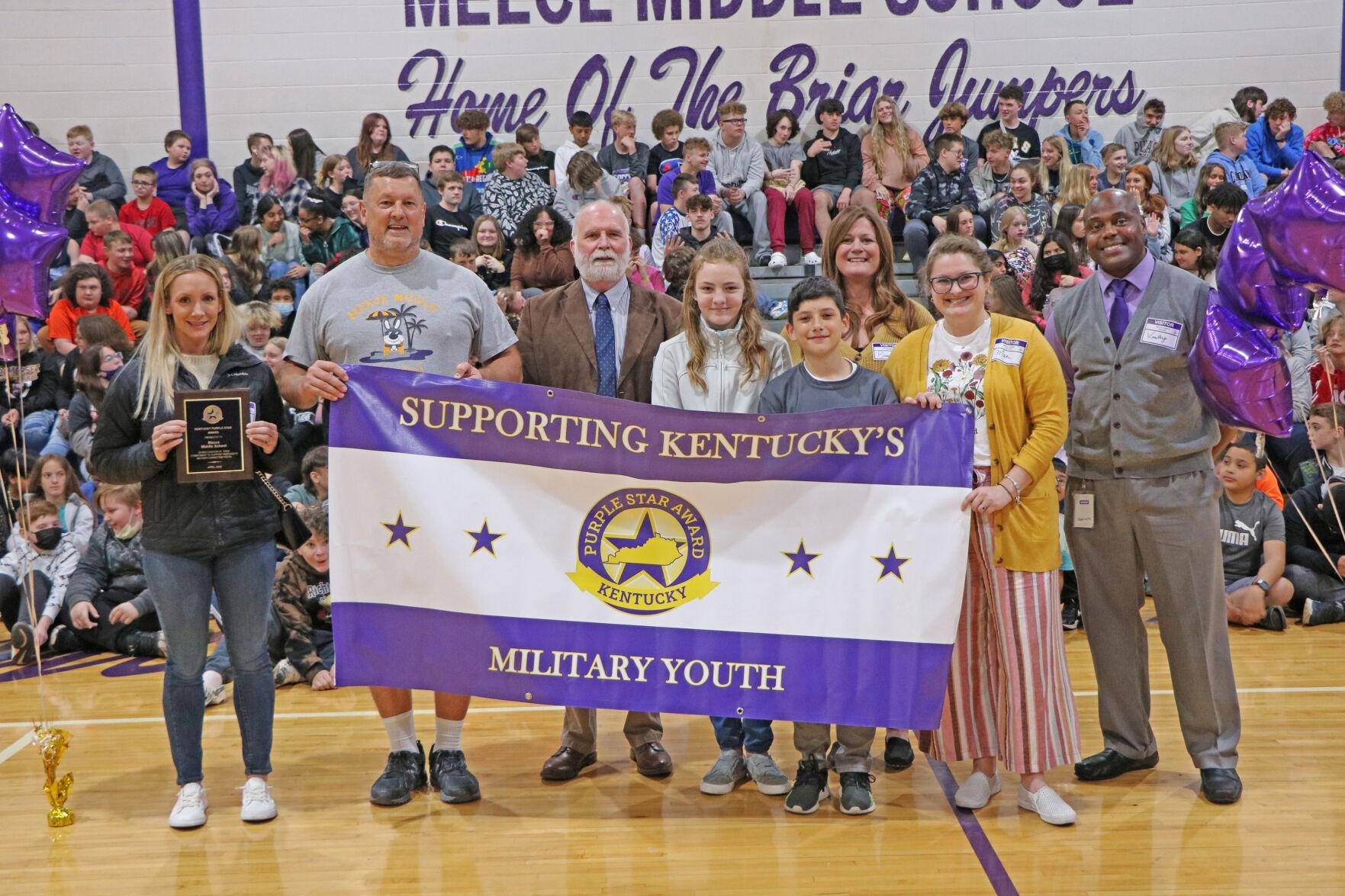 Purple Star Award schools work to strengthen resilience of Kentucky's military-connected youth
Following three award ceremonies in April, Kentucky now boasts six Purple Star schools.
The Purple Star Award Program focuses on strengthening the resilience of Kentucky's military-connected youth and ensuring that their social, emotional, and academic needs are met. It is a partnership of 18 agencies in the state, including the Kentucky Violence and Injury Prevention Program (KVIPP) at the Kentucky Injury Prevention and Research Center (KIPRC).
"The mission of the Purple Star Award Program is to instill a sense of connection and strengthen resilience within Kentucky's military-connected youth," said Sarah Jemison, Military Family Resiliency Specialist with Seven Counties Services, which is a lead partner in the program. "The goal of the program is to create and sustain a statewide support system within schools and communities that work together to build resilience and support for military-connected youth in Kentucky by partnering with schools and communities to foster diverse, inclusive, and supportive environments for military-connected youth and families."
The four Kentucky schools awarded in April were Kenwood Station Elementary in Oldham County, Meece Middle School in Pulaski County, and Carr Elementary and Fulton Independent High School in Fulton County. They join Monroe County Middle School and Monroe County High School as Purple Star schools.
According to the Kentucky Incentives for Prevention (KIP) Survey, approximately 40,000 Kentucky youth in grades 6, 8, 10, and 12 reported having a military connection, through a parent's or relative's active service in the Armed Forces or the National Guard or Reserves or as veterans.    
"According to a KIP Survey, military-connected youth report higher rates of risk factors such as serious psychological distress, substance use, bullying, self-harm, suicidal thoughts/attempts, and low educational attainment than non-military-connected youth," said Dr. Ashley Bush, PI for KVIPP. "KVIPP is excited to be a part of an initiative to support military-connected youth through school involvement and recognition. Schools provide a great avenue to increase awareness about children in our community that are connected to service members, veterans and their families. KVIPP is excited to support the efforts of our partners to implement the Purple Star Program to serve on the Purple Star Advisory Board."
"According to a national evaluation by the Center for Public Leadership and Columbia University on the Purple Star program, 77% of schools report a positive impact on the school and that it has significantly improved their relationships with military families," Jemison added. "By creating a more supportive environment within the school and broader community, military-connected youth have better academic and social-emotional experiences."
Bush said KVIPP proudly supports Seven Counties Services and other key partners to enhance Purple Star delivery, outreach, and look for opportunities to secure and/or leverage existing resources. She added that KVIPP focuses on supporting the work of many other partners to reduce the devastating impact of injuries and violence among disproportionately affected populations.
To receive the Purple Star Award, schools are required to designate a school-based liaison. The liaison must attend training, and the school must host one military recognition event and establish a resource page for military families on the school's website. Once the school completes the required activities, it submits an application to the statewide advisory board for review.
The Purple Star Advisory Board, formed by the Kentucky departments of Education, Higher Education, Veterans Affairs and Behavioral Health, Developmental and Intellectual Disabilities reviews applications twice a year. Purple Star awarded schools receive a special recognition to display along with statewide recognition and a press conference for their achievement.
Interested schools and organizations can visit www.kypurplestar.org to learn more and begin the application process for the Purple Star Award designation.
The Purple Star Award Program originated in Ohio and is now implemented in more than 40 states.
For more information regarding any military youth initiatives, contact Jemison at sjemison@sevencounties.org.
KIPRC is a unique partnership between the Kentucky Department for Public Health (DPH) and the University of Kentucky's College of Public Health. KIPRC serves both as an academic injury prevention research center and as a bona fide agent of DPH for statewide injury prevention and control.