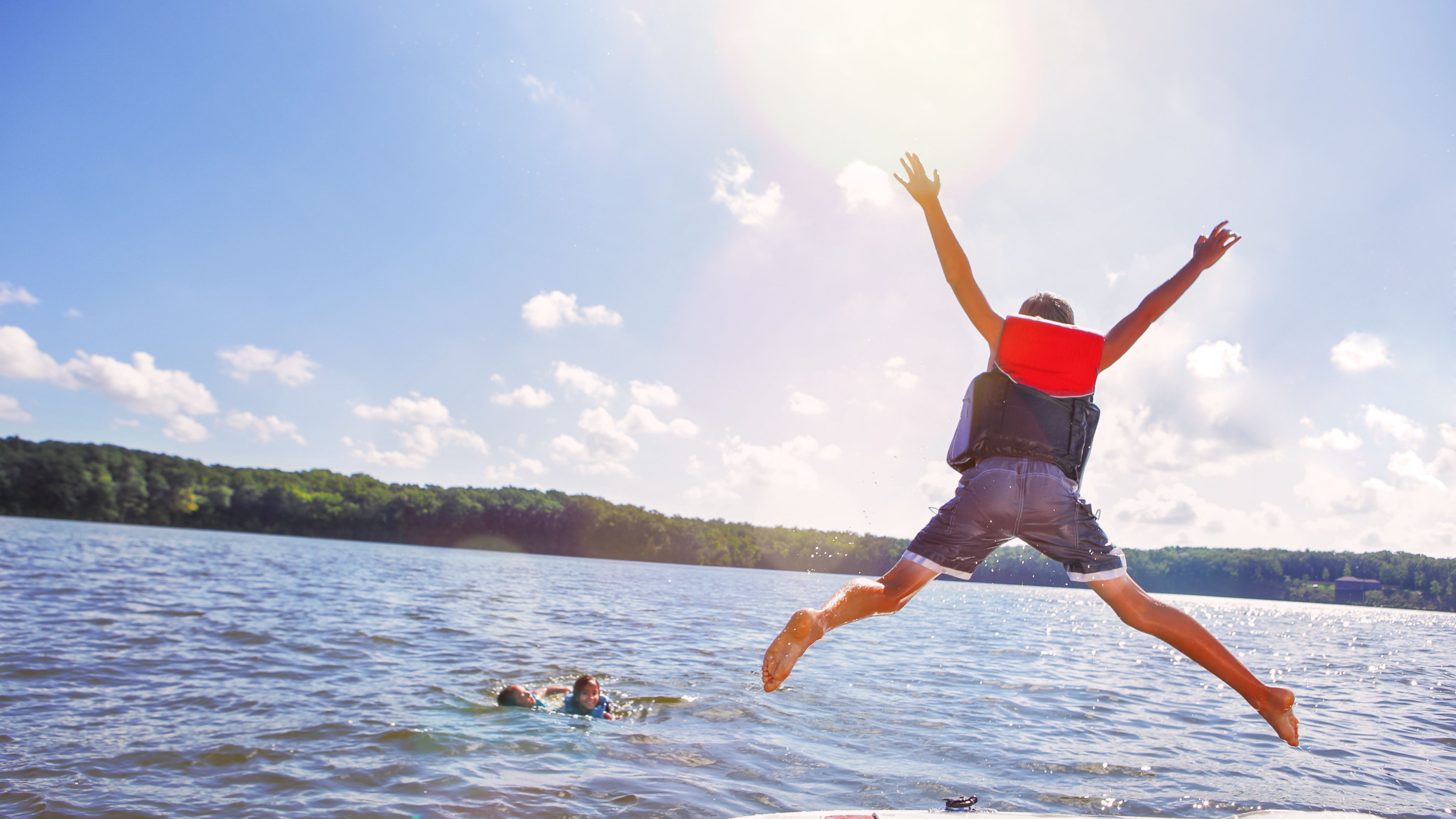 With more navigable miles of water than any other state besides Alaska, Kentucky is a great place for swimming in the summer. But did you know that 329 Kentuckians died by unintentionally drowning from 2016 through 2021? Drownings can happen to anyone in a matter of seconds. Drowning is often silent and can lead to a trip to the emergency department (ED) or even death. 
From 2016 through 2021 EDs saw 543 unintentional drowning-related injury visits by Kentucky residents. * Most of these drowning injury ED visits involved kids under the age of five (240), and most drowning deaths occurred among persons aged 45-54 (53) and over 65 (53). The highest percentage of drowning deaths involved a natural body of water (37%), and the majority of drowning-related injuries that resulted in an ED visit involved a watercraft or boat (30%). 
Practicing water safety can help us all enjoy being near water, so use the following safety tips when being around water:
Learn how to be safe around water by taking water safety, rescue, and swimming lessons.
Lock and fence off swimming pools and ponds.
Use life jackets in and around lakes, ponds, rivers, and other water bodies.
Never leave kids alone and unsupervised when they are around water.
Check the weather and water conditions before you go.
Being around the water in the summertime should be make for an enjoyable and relaxing day.  But it is important to be alert and to follow safety precautions for you and your family.
To read more, visit https://kspan.egnyte.com/dl/YCPWQ6pLsa.
Ted Sensenbrenner, Development Director of BoatUS Foundation, shared the importance of having a life jacket when around water that is properly fitted, in good condition, and intended for the water activity.   He stated, "a life jacket will only work if you're wearing it and as it will work much better if it's a properly fitted life jacket."
To make sure your lifejacket is properly fitted follow these tips:
Check the manufacturer's label to ensure that the life jacket is a proper fit for your size and weight.
Make sure the jacket is properly fastened.
Hold your arms straight up over your head. Ask a friend to grasp the tops of the arm openings and gently pullup. Make sure there is no excess room above the openings and that the jacket does not ride up over your chin or face.
For more information on properly fitted jacket visit here.
Sensenbrenner also shared the importance of proper care of your life jacket, "You should check your life jacket every time you put it on. Take note if the buckles are no longer snapping or if the zipper doesn't zip.  If it's torn and worn, then you need to retire those live jackets."  Life jackets should be dried in open air before storing and stored in an area with proper ventilation. 
For more on how to care of your life jacket visit here.
Sensenbrenner explained the importance of also selecting a jacket that is intended for the activity you are doing.  There are five different types of life jackets each designed for different activities and water conditions.  The product label of the life jacket gives information on intended activity, size of the person it will fit, and care instructions. 
Sensenbrenner also shared a new automatic inflatable life jacket.  "I think the greatest advancement in life jackets in the last 25 years was the introduction of the inflatable life jacket.  You can inflate it by pulling a cord, or by blowing it up with your mouth, or the best ones inflate automatically. So, if you fall into the water you don't have to think about it, your life jacket just inflates."  The auto inflating jackets have a CO2 cartridge that is pierced when submerged in water.  These are not recommended for individuals who cannot swim and are not recommended for activities where water impact is expected such as water skiing.
For more information on choosing the correct jacket visit here.
"But the most important thing we like to say is the best life jacket is the life jacket that you're that you're that you're going to wear," stated Sensenbrenner.  
Additional Resources:
Centers for Disease Control and Prevention (CDC) drowning prevention 
YMCA water safety and swimming 
KIPRC is a unique partnership between the Kentucky Department for Public Health (DPH) and the University of Kentucky's College of Public Health. KIPRC serves both as an academic injury prevention research center and as the DPH's designee or "bona fide agent" for statewide injury prevention and control.
*Figures represent the number of visits and may be greater than the number of patients treated.