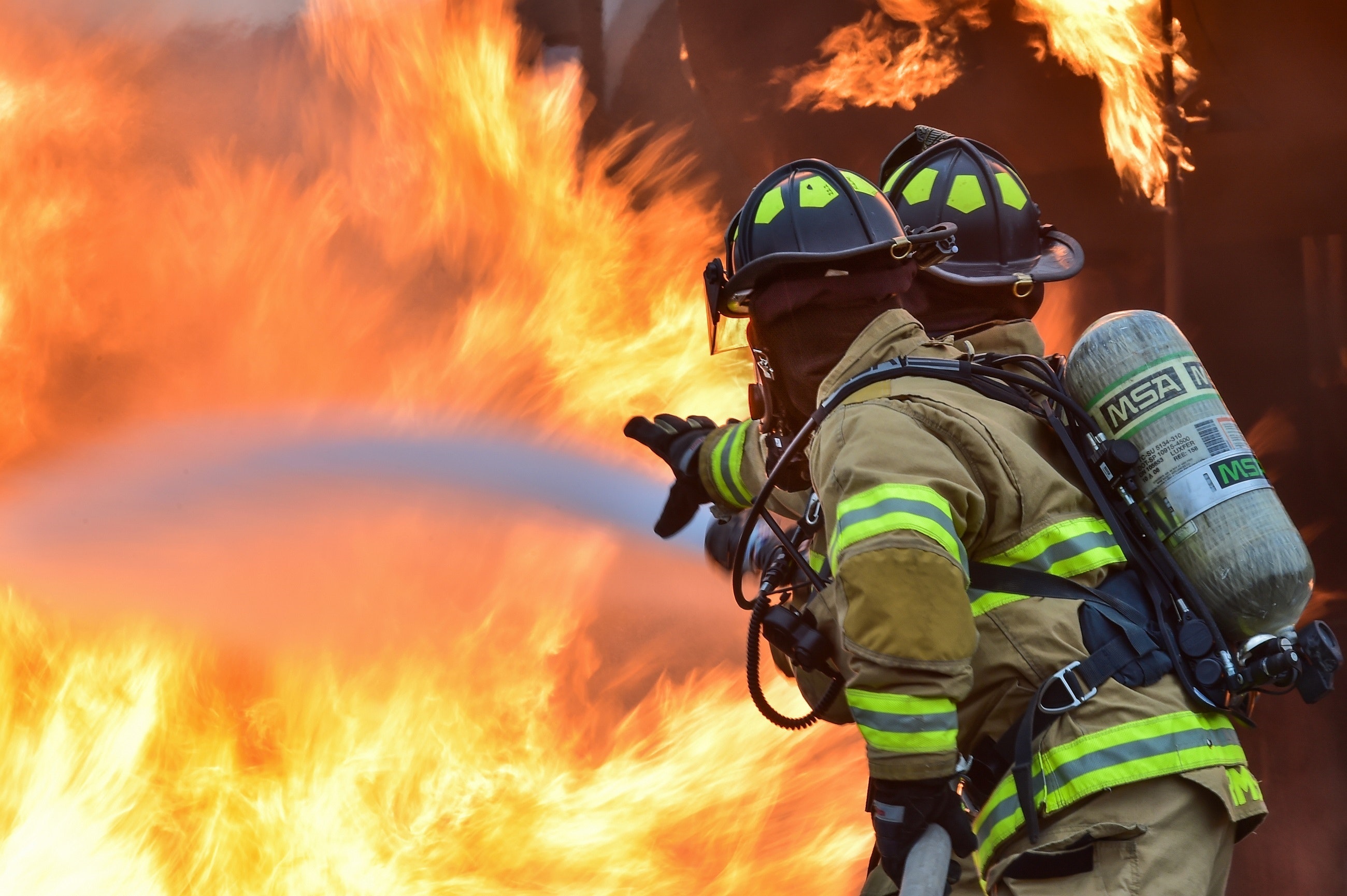 Fire Prevention Week emphasizes need for fire escape plan
Kentucky has a high rate of fire-related fatalities. During the five-year period from 2015-2019, the rate of fire-related fatalities in Kentucky was 17.22 per million. This is much higher than the national rate of 9.98 per million for the same period.   
The National Fire Protection Association (NFPA) has identified several factors that increase the risk for dying in a fire, including poverty, living in a rural area, smoking cigarettes, and having a disability. Kentucky ranks above the national average in all of these risk factors.
Most fatal fires occur in the home. The Residential Fire Injury Prevention (RFIP) program at the Kentucky Injury Prevention and Research Center (KIPRC) works with fire departments and other local organizations to prevent deaths and injuries due to fire by increasing the number of homes in Kentucky that have working smoke alarms and by providing fire safety education to Kentuckians.
"Smoke alarms don't prevent home fires," said Robert McCool, KIPRC's Fire Prevention and Safety Program coordinator. "What they do is warn you when a fire starts, so that you have enough time to get out safely."
McCool said that warning alone isn't enough. A fire escape plan—and practicing it—is needed, he said.
"It isn't enough to just talk about it," he said. "You have to actually practice to be sure that everyone in the home can do what they need to do in order to get out within a couple of minutes—in the dark, in the middle of the night, with smoke everywhere and the regular exits blocked. If you wait until the smoke alarm sounds to try to figure out how you're going to get out, you might not get out at all."
A fire escape plan should include at least two ways to get out of each room. Everyone in the household must be capable of understanding and following the plan. This includes young children, elderly individuals, and anyone with a disability or special needs. If someone can't escape on their own, the plan must cover who will rescue them. Everyone must be able to get out within two minutes, even if they must use alternate exits rather than doors.
McCool said that many of the materials used to build newer homes burn more quickly than the materials used in the past and that furnishings and contents inside today's homes also burn more quickly.
"A carpet made from cotton burns much more slowly than one made from nylon or polypropylene," he said. "Plastics and synthetic materials burn more quickly, and hotter, than natural materials like wood, cotton, and wool. This means that a fire can spread through a home very quickly. That's why everyone needs to be able to escape from the home within two minutes if a fire starts."
In addition to having working smoke alarms and practicing a fire escape plan, Kentuckians can reduce the risk of a fire in their home by following some simple guidelines. Never leave cooking food or a lit candle unattended. Don't smoke inside, and never smoke while in bed or when you're tired or sleepy. Keep space heaters at least three feet away from flammable materials, including furniture and curtains. Keep matches and lighters away from children, and never allow children to play with fire.
KIPRC uses Fire Prevention and Safety grant funds from the Federal Emergency Management Agency to provide smoke alarms, fire safety educational materials, installation documentation, and installer training for fire departments and other local agencies that participate in the Residential Fire Prevention Program. KIPRC project staff also serve as advisers if local partners have questions or concerns during their projects. 
McCool said that local organizations identify low-income and high-risk homes in their communities that need smoke alarms. The local organization then installs the alarms, provides fire safety education for the residents, performs a brief home safety check and provides the results to the residents, and submits documentation of its work to KIPRC.
A fire department, public health department, or other local public safety or service organization can apply to participate in the project by contacting Robert McCool at (859) 257-6741 or rmccool@safekentucky.org. Applications will be accepted until the available supply of smoke alarms is gone.
More information, including a sample application, is available at https://kiprc.uky.edu/programs/residential-fire-injury-prevention.
National Fire Prevention Week is Oct. 9-15 this year and is timed to commemorate the Great Chicago Fire of 1871. This year's Fire Prevention Week theme, "Fire won't wait. Plan your escape," reminds everyone of the importance of creating and practicing a home fire escape plan. This year marks the 100th anniversary of Fire Prevention Week.
KIPRC is a unique partnership between the Kentucky Department for Public Health (DPH) and the University of Kentucky's College of Public Health. KIPRC serves both as an academic injury prevention research center and as the DPH's designee or "bona fide agent" for statewide injury prevention and control.